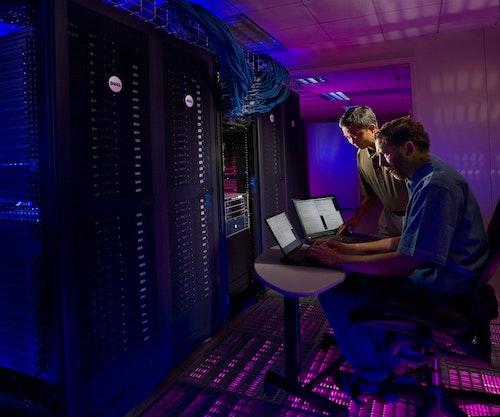 Hosting your applications in house has long been considered the best way to keep control of your business processes, however technology and the industry has moved on and with considerable reductions in datacenter costs, keeping your servers on-site is not considered a viable solution.
Some of the risks of in-house hosting:
What happens when a high availability server develops a fault?
If a server is down, how much is it costing your business?
What is the impact of server hardware and upgrades on your Capital Expenditure?
What is the risk realised by keeping your entire business on one site?
Hosting your servers and data with ChilledWeb can:
Reduce your CapEx, support, licensing and other hidden IT support costs.
Provide Tier1 data center security and service availability.
Demonstrate business continuity.
Why ChilledWeb?
ChilledWeb pride ourselves on the availability of our services. In this industry, bad news travels fast and those companies who are not able to deliver safe and secure services quickly go out of business. With fully redundant architecture we have been assuring business continuity for our customers for over 10 years.
In addition we provide a pay-as-you-go service meaning fixed and predictable costs, freeing up your budget and time.
Hosting In-House Could Be Putting Your Business At Risk …
Hardware failure
You've invested heavily in a server. The only way you can ensure continuity is to have a failover system, so doubling an already large investment.
ChilledWeb have fully redundant architecture throughout our datacenter. From the data lines coming into the buildings (multi-routed and multi-homed) to the hard disks in the servers (full hot-swappable RAID), there is no single point of failure that could impact our customers.
Disaster
Flood, fire, theft? Insurance can cover a business for the hardware cost, but what about the intellectual property? How do you insure your data? And how long can your business stay offline?
ChilledWeb host Tier1 datacentres, these are 'dark' where human interaction is allowed by exception. Security is IL5 government grade and the utmost priority for our reputation.
Hidden costs
Other costs that should be taken into account when looking at outsourcing your hosting should be those hidden costs such as Operating System Licensing, Storage Racks, Backup solution, Hardware Maintenance Costs, Cooling, Network Bandwidth, Staffing.
And Finally …
Hosting your servers and online services with ChilledWeb can both save you money and move you closer to a more resilient business.
Keeping functions like this in-house is expensive, risky and inefficient, contact us now to find out ChilledWeb can help you focus on your future goals and not worry about your current needs!